Planets aligned for me this morning. My being stuck waiting for several sets of disc golf tee sign contacts to get back to me with feedback and approvals on their sets of signs I have been working on recently. No rain in the forecast in Coos Bay or Roseburg (Oregon). And nothing on our family's calendar. So I decided that today would be the day that I reached one hundred courses played in the State of Oregon, as well as my opportunity to play what is arguably the best course in the State of Oregon, South of the greater Portland metro.
My first stop on the day was at Oakland DGC in Oakland, Oregon. I actually was pleasantly surprised by this course! Some of the tees/fairways/baskets are too close to one another, from the perspective of safety. But keep in mind that this is a smaller-town course that won't often have more than 1-2 groups on the course at the same time. So with that in mind, the lines that the designer created off the tee pads were fun to throw.
The highlight of my round was meeting two very nice men about my age. Players who say they are just starting to spend time learning how to play, but how much fun they are having getting familiar with the sport. They served as my "gallery" when I put my tee shot from the Hole 8 tee about five feet left of the basket for the drop-in deuce (I pulled out a little magic in front of an audience, ha!), then we spent a good 10-15 minutes talking about their enjoyment of the sport. Sharing a couple of tips for how they can get a little more distance and accuracy off the tee. Then one of them (Erik) asking if he could take a selfie with me. We'll see if that selfie appears in the comments of this post…as he said he was going to check out this blog. 🙂
I played Oakland well, to the tune of a -5 (22), and an estimated round rating of 1009, despite taking a very hard fall in the rocks and mud mid-way through my round. When I started sliding and knew I was going to the ground, I did everything I could do to protect my left arm/hand/shoulder! But doing that caused me to land awkwardly on my right elbow. It caused a lot more pain than I expected, and I needed to give myself several minutes to mentally recover and "embrace the pain." Accept it, then getting my head in a place where I could overcome it…as there was ZERO chance I wasn't going to finish the day accomplishing what I had set out to do.
After Oakland, it was on to probably THE "bucket list" course I've wanted to visit since moving to Oregon in April 2022: Whistler's Bend in Roseburg. Regarded by most as the #1 course in Southern Oregon, and probably a top 3-5 course in the State? I've been dying to see what all the fuss is about. And I must say that the course did not disappoint.
8,999 feet over 27 holes, with lots of trees and elevation change, the first course that came to mind after playing here was Wildcat Bluff in Iowa…arguably the #1 course in the State of Iowa. So, SO fun! Fun, AND requiring precision and the ability to throw a wide variety of shots/lines off of the tee and from the fairways. Whister's Bend had just enough open "let's see how far you can throw it" shots to keep the big arms from crying foul! 🙂 But most of the round required incredibly precise shots, hitting your landing zones.
I was actually surprised at how precarious some of the basket positions were in relation to the adjacent river! Miss your tee shot or approach shot 15-18 feet long or right? Splash. You could essentially throw the perfect shot, be unlucky in having your disc catch and edge and roll, and you'd not only be adding a penalty stroke to your score! You'd be going home with a lighter backpack.
The shot of my day, my year, heck…my 2020s, came on the Hole 17 tee. A 620-foot "top of the world" shot that disc golfers love so much! There were 5-6 guys in front of me on the next hole (nearby) so I thought I was going to throw all caution to the wind and really see what I could do on the tee (had more spotters already down there, if necessary). I reached back a little extra far in the middle of my X-step and ripped that disc across my chest as fast as I possibly could! While letting out a grunt that probably would have made Serena Williams (on the tennis court) proud. 🙂
I ripped that disc at a slight downward angle, a few feet above the tops of those trees (pictured above), and my ProLine Tempest went screaming just above those trees and just kept going…and going…and going! With the elevated tee, I threw that disc faster and farther than I think I've ever thrown a disc! And when my disc finally hit the ground, it was sitting fifty feet left of the basket, pin high. A ~620-foot tee shot! RAWR! [insert flex here] 😛 I got to my disc and one of the guys on the next hole asked if that was my second or third shot. Another guy on his card said: "Nope, that was his TEE shot." Then they said "nice shot" …LOL.
Of course, I couldn't make the fifty-foot putt, when I could have told my grandchildren about the time that I deuced a 620-foot hole (ha). But I played Whistler's Bend really, REALLY well. To the tune of an even-par 81. And even at even par? That was good enough for an estimated round rating of 987. I went through my round mentally in my head, hole by hole, shot by shot, after I got back to the car. Barring a lucky throw-in off the tee or from the fairway, I think the very best I could EVER play Whistler's Bend is a 78. So shooting an 81 put a smile on my face and a spring in my step.
And playing one of the very best courses in Oregon, after enjoying my time at Oakland DGC, I can now say that I have played one hundred courses in Oregon. Oregon becomes the sixth State where I have played at least one hundred courses (Minnesota – 339, Iowa – 284, California – 163, Wisconsin – 118, Nebraska – 106). Pretty cool!
Magic Number = -7 (2,007 Courses Played)
How it All Got Started: Tonn's Travels >>
A main purpose of this blog will be to share information, helpful tips and tricks (everything from health and fitness to methods for saving money while you're out "bagging courses" of your own), and ideas for better, safer course design. But I am also hoping to inspire others with my passion for the sport, via the stories I can share about all of the interesting experiences I have. All of the interesting people I meet. All of the amazing courses I am blessed to have the opportunity to play. If I can inspire even a handful of individuals to get off the couch, get "out of their bubble" or "security blanket" and explore more of this big, beautiful planet we all call home? Then I will consider this effort a success.
About Derek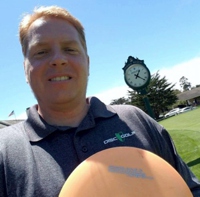 Derek Tonn is a member of the DGA's Ambassador Team. His company, Mapformation, LLC, has been DGA's partner in the development of disc golf tee signage since 2012. The longer our two companies have worked together, and the more Derek has gotten to know all the great folks at DGA, the more he has wanted to formally sing the company's praises. The more he has realized that "Steady" Ed's (the father of disc golf and the modern-day Frisbee) vision for the sport and his company perfectly describes his own interests and priorities related to disc golf, and the more Derek has recently been encouraged to share his story.