Blunt Gumbputt Putt & Approach Disc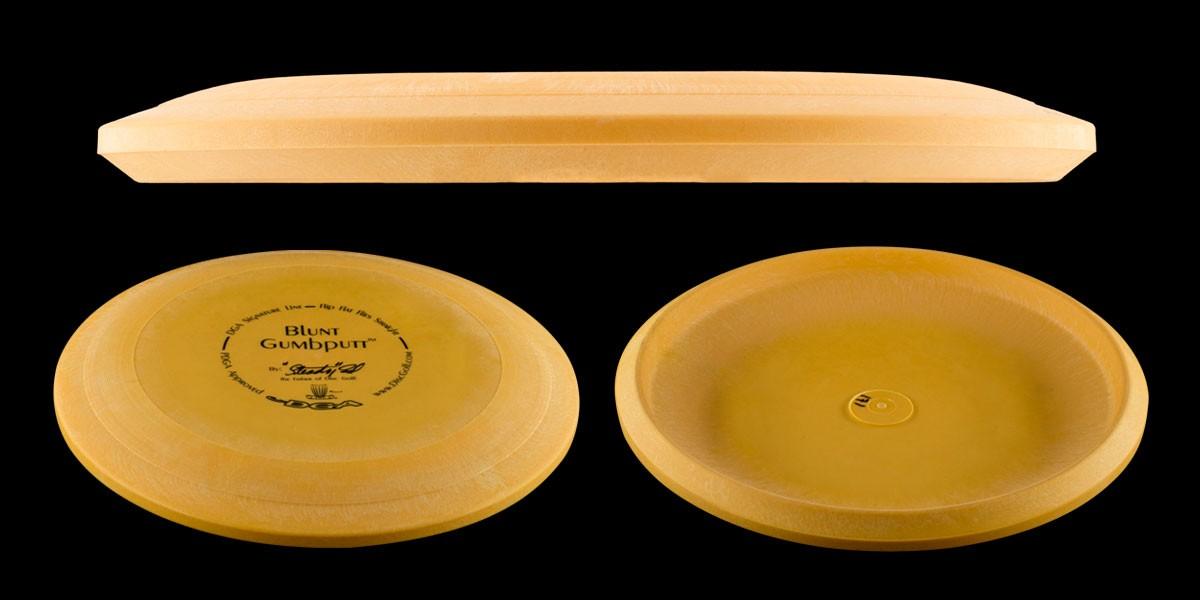 [ Speed 2, Glide 2, Turn 0, Fade 2 ]
This disc has a blunt edge and is both an excellent putt and approach disc. The Signature Line Blunt Gumbputt is a great putter and sticks to the chains or the ground if you just so happen to miss.  It is extremely flexible and durable.  You can literally taco this disc and it will expand right back into its original shape.  It is ideal for both beginner and experienced players!
The Gumputt is hilarious. So soft, so gummy, so ridiculous....it hits and sticks. It's almost hard to describe. It's so floppy, it's very hard to throw for any sort of distance, but if you can, you will find a pleasantly neutral flight. Really great for risky putts that absolutely must stick. The Gumputt does get really dirty really quick though....something to be aware of.
This disc is a blast! But it's uses are limited. It's just sooo floppy, and a strange mix of understable and low glide. I recommend for casual players as a first putter. In the meantime, it will not sail too far past the basket if you miss, and if you hit the chains, pole, basket, top or anything else it is going to stick. Once you start making putts from 25+ ft, it's not going to be consistent or wind resistant enough. It's also a decent approach disc for hills because it sticks and does not roll. ...
$

21.99
The Signature Line Blunt Gumbputt disc is unlike any other disc golf disc in the industry. This disc has a blunt edge and is both an excellent putt and approach…